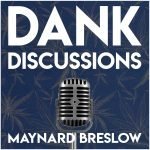 Kevin and Sayje Lasenberry are the owners of Onyx Mana, a Northern Jersey-based Black-Owned e-commerce CBD store. This father-son duo is very dear to our hearts at DANK Discussions as they are a proud part of the Calacann Family. They join me in this very special episode to talk about being a black-owned company during these times and the systemic racism behind the curtain of our industry. Their goal with Onyx Mana is to not only sell CBD, but to make sure they are democratizing the cannabis opportunity for Black and Brown people.
First, Kevin and Sayje tell me the back story on how cannabis in general and hemp in particular came into the picture for Onyx Mana. While applying for college, Sayje made the decision that he wanted to pursue studying the genetic modifications of hemp. After doing much research and being an avid lover of plants himself, Sayje realized that hemp was truly a powerhouse of a plant. When he got to college, he realized that biotech and plant genetics was definitely not the route he wanted to take. He switched over to sustainability, and that is when his vision began to take shape. Kevin was the one to change the conversation within the family over to CBD. 
At first, Sayje did not see how CBD was a good fit in his model to build houses from sustainable products like Hemp. After much thought and consideration, Kevin and Sayje decide to start building Onyx Mana. Simultaneously while switching over to studies in sustainability, Sayje was also applying for his school to start growing Hemp. After going through the extensive process to get a license, his school started shutting down Sayje's clubs. They started taking down interviews on the school website where Sayje spoke on sustainability and hemp. Kevin tells me how this in and of itself is a big example of the underlying racism towards black people who are associated with cannabis. With the help of his friends and his father's friends, Sayje was finally able to start growing Hemp.
Today, Our History is Being Recorded In Addition to Being Rewritten
Next, we discuss how important personal and online privacy is. Kevin says that the new generation has no sense of privacy. They were indoctrinated to share everything and anything under the term "social media." We are starting to see a shift during the protests that are happening today. People are now realizing that they are being trapped by their phones. In such an interesting time, both generations are realizing how important it is to protect our information. The killing of George Floyd was such an egregious violation of human rights. The reality is that people don't want to recognize the humanity that Black people have, even though social media makes it easy to follow people's actions. If we do not protect our privacy, we are giving up our very freedoms.
Democratizing the Cannabis Opportunity to Black & Brown People
With Black and Brown people being hit harder due to the result of COVID-19, privileged people are finally realizing their role in many social issues that are devastating people of color. 4.3% of the cannabis industry is Black-owned, whereas that number is higher for Black people who are incarcerated for cannabis crimes is more than double that number. The question is, why are people still in jail for cannabis crimes while other people are out here profiting from it with a free pass?? With Onyx Mana, Sayje and Kevin wants to take their brand, their platform, and this cash crop to help benefit communities that are faced with the same issues that they're faced with.
Building up other Black-Owned Businesses so We can Be Ready for The Shift in the Economic Platform
We must recognize on a grassroots level that as long as we are working for our oppressors, they control our paychecks and our livelihood. We are in a capitalist society whether we like it or not. Black America only keeps the dollar in their community for roughly 6 hours. After the pandemic being a physical and medical disaster, there will be an economic disaster. Kevin tells me how important it is to take control of our economics. This is the key aspect of all that is going on right now. We have to be the people in charge of marketing our own image. The same billion-dollar companies who profit off of child labor and mass incarceration are the ones who try to be in charge of our image. We need to make sure people know this and know that we must market our own image. 
Cannabis, Community, and Culture
Finally, we deep dive into Onyx Mana's 3 Cs. Kevin and Sayje are not just selling CBD, they are selling a way of thinking. With an African touch on their website, Instagram, and brand in general, they hope to make an impact with an aspect of culture. They both strongly believe that raw self-expression is as important as intellect. They have something they genuinely stand for and that's what they want to convey through their products. They want to empower other people with what they have with Onyx Mana. As a working-class family, they have started Onyx Mana from the very bottom and have worked their way to the top. Not only will they overcome the obstacles, but they will give other people in the community opportunities to participate in the distribution of this product as well. 
3 DANK Points
How Black and Brown and Native Americans have been hit harder as a result of Covid-19

4% of the cannabis industry is Black-owned

Many of the ailments that CBD can remedy are predominantly in the Black community

Putting money back into the Black community with a Black-owned CBD business.
Links
Does your cannabis, hemp, CBD company need to improve local or e-Commerce sales? Set up a time to speak with us at Calacann – Cannabis Marketing Agency (https://calacann.com/grow) to discuss how our digital marketing, search engine optimization (SEO), web design, affiliate/referral marketing or influencer marketing campaigns can help you. Home of the D.A.N.C. Method.
Spotify | YouTube | Soundcloud | Stitcher
Follow