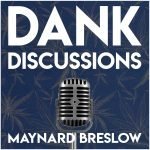 Kaleigh Marks is the owner and operator of Lez Get Baked, LLC in Pheonix, Arizona. Lez Get Baked is a female-owned CBD-infused bakery. With a focus on quality, flavor, and sustainability, Lez Get Baked's products are made with full-spectrum hemp-based CBD. Being a proud lesbian, Kaleigh joins me to talk about how the cannabis and LGBTQ communities intersect. Furthermore, she talks about what we can do to put a greater emphasis on sustainability within the industry.
Kaleigh, who has been cooking since she was 7, knows that the easiest way to someone's heart is through their stomach. However, she began using cannabis at age 15 and has been an avid user ever since.  At Lez Get Baked, their main goals are making sure their customers know how passionate they are about making these incredible treats all while loving the Earth and giving back to it.
Moving to a State Where Cannabis is Not Tolerated while also Seeking an LGBTQ Community
Kaleigh joins me on this episode to tell me her journey starting from learning how to infuse CBD into her cooking, to now owning a nationally distributed CBD-infused bakery. First, she opens up about the courage it took to leave her family in order to find a more accepting environment. Next, Kaleigh shares she was able to improve her quality of like by getting off of 22 pain pills solely using CBD.  Finally, she shares how this opened the door for her edible business and the decision she made to make it an openly lesbian company. Ultimately, the motivation was to help others on their own journey to live a positive, healthy and self-confident lifestyle. 
3 DANK Points
How to handle the differences between a recreationally legal state and an anti-cannabis state

"The edibles market is a difficult market to get rich in"

Being in the "green market" means we need to be sustainable from all sides. 
Links
Spotify | YouTube | Soundcloud | Stitcher
Follow