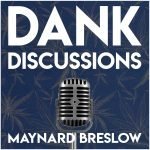 Kevin Edmundson is the Founder and CEO of CannaCare RX, based in Bartlesville, Oklahoma. CannaCare clinics are the first opiate-based clinic in the United States, with two fully operational locations and three more on the pipeline. With the CannaCare brand, Kevin and his team focus on medical research and helping people understand cannabis as a medicine. Today, Kevin enlightens us about the importance of expanding research, his current studies about the elderly, and how cannabis played a vital role in restoring his health.
Kevin takes us back on his journey to the cannabis industry some 40 years ago when he broke his neck and back at 18. Due to this incident, doctors prescribed him to follow an opiate program with 120 + other pills that he had to take every day, which lead to his dependence on these medications for more than 35 years. He believes this opioid addiction weakened his body and eventually lead to him developing colon cancer, and not long after, he ended up having a major stroke. Because of this ordeal, his wife was determined to take him off his pharmaceutical drugs. They decided to try a cannabis-infused oil called "Rick Simpson Oil," which miraculously allowed him to not only eliminate all 25 different medications but also restore his health and recover from cancer and stroke. This significant milestone in his recovery introduced him to natural plant medicines and a deeper understanding of the molecular diversity of the cannabis plant. 
The Diversity of the Cannabis Plant
Kevin and his team are on the quest to expand the research and studies of medical marijuana. They currently have three THC products – a meter-dosed THC inhaler, meter-dosed 6,000 strength lotion, and a transdermal pain patch, which the FDA approves through the EAU emergency act. These are noted to be the three first medical studies with COVID-19 and medical marijuana and will be able to go to market quickly because they're EAU approved under the emergency act for COVID-19. The FDA doesn't approve any smokables or edibles in any research, that's why Kevin and his team designed it to be inhalers or creams because controlling and tracking the study becomes convenient for the FDA. Precisely because it's under FDA's watch, Kevin is confident to provide a clean and pharmaceutical-ready products for his clients and it is not something grown in "someone's basement."
Free Medical Cards for Seniors
Kevin and his friend, Dr. Simmons, started a program helping people get free medical cards for veterans and children. They dropped the price from $275 to $99 to $0, which is basically free! They find sponsors to help the seniors get their medical cards, they process the paperwork, and help relay their medical problems to their doctors. Kevin emphasized how they were the first in the United States that went against the norm and fought against opiate and prescription drugs with the use of cannabinoids. If you are sick and you need "pharmaceutical" or prescription drugs, its fine to use them. But get better and let your body heal itself because you can't overly rely on chemicals not made to be in your body forever. It's only good in the short-term, but not in the long run. There will be doctors who will still recommend them, but Kevin implores for everyone to come together and let doctors and people have their own medical freedom.
The Future of Medical Marijuana for the Elderly
The senior market is going to be where cannabis is more productive. Medical use of cannabis has been seen to increase in the senior population. It's now recognized as an effective way to manage different health issues and medical conditions like anxiety, insomnia, and even chronic pain. As the awareness of medical cannabis and its potential benefits grow, the public has become more accepting of marijuana use among seniors, encouraging more seniors to try this alternative. Kevin believes that people who understand the crucial use of cannabis for the elderly need to step up and figure out how to get through these barriers. The COVID19 was already a detrimental issue they have to handle. That's why Kevin have high hopes for their research so that he can help these seniors have more time to spend with their grandchildren, their significant other, or even with God! They deserve that dignity to choose!
3 DANK Points
The importance of expounded research and studies about medical marijuana for seniors.
Reviving hemp industries and setting infrastructure standards to bring hemp into new markets.
Replacing Opiates and Prescription Drugs with Medical Marijuana.
.
Links
Does your cannabis, hemp, CBD company need to improve local or e-Commerce sales? Set up a time to speak with us at Calacann – Cannabis Marketing Agency (https://calacann.com/grow) to discuss how our digital marketing, search engine optimization (SEO), web design, affiliate/referral marketing or influencer marketing campaigns can help you. Home of the D.A.N.C. Method.
Spotify | YouTube | Soundcloud | Stitcher
Follow