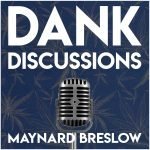 Logan Lajiness is the owner of Great Lakes Wellness CBD. At just 20 years old, this young entrepreneur joins me to talk about his journey of finding his ideal target CBD niche with influencer marketing. After seeing the many stories of healing and triumph within the cannabis industry, Logan wants to make a mark of his own. With Great Lakes Wellness CBD, he finds fulfillment in doing the things he is most passionate about; owning a real business, and helping others.
First, Logan takes me on his journey of how he became an entrepreneur. At the age of 15, his high school offered intro classes on business. He explains to me how his first motive for taking these classes was to open his own skate shop. Soon after realizing the magnitude of how opportune the business industry was, he decided to take a different route. At the age of 17, Logan put the lessons he was learning in the business class into action. By buying clout goggles in bulk and watching them sell out at his school's football games, he was able to get his first taste of the business world and the true reality of it. He has also In college, Logan continues to pursue business and administration in college.
Focusing on THC-Free Products to Serve Those With Strict Drug Testing
Next, we talk about Logan's intentions with Great Lakes Wellness. He tells me that his family is his biggest support. As a family of chiropractors, they have taught him about chronic pain his whole life. CBD came in as Logan's idea to provide a choice for the people who need relief but cannot trip a drug test because of their jobs. With his family already working in the industry, he was blessed with the opportunity to do more than just own a dispensary. Great Lakes is growing at a slow and steady pace with help from word of mouth marketing. 
Reaching your Target Niche with the Right Techniques
Third, Logan explains to me how influencer marketing has helped him market to the CBD audience he is targeting. He says that influencers should be able to do what makes them happy but also bring value to your brand. Influencers must be within the character of the platform. People unwillingly trust celebrities and people with big followings as much as their own friends. In the world we live in, this stuff is possible. Influencer marketing will only help you spike in sales if you have a good product. Cater to your influencers platform because that is where their audience wants to see them. Logan knows this from experience by having his own youtube channel.
Training the Youth: Entrepreneur Programs at Universities
Furthermore, we deep dive into how to properly brand and market a cannabis company with strict regulations in place. In that regard, he explains why brands should never remain stagnant. He talks about how important it is to remain flexible while conveying your message and making sure to implement feedback from mentors and customers. Most importantly, we discuss the ways to bring massive awareness to your brand. Unlike other industries, this has to be without spending a dime on Facebook and Google ads. Not only are we not allowed to spend on these ads, but it is a wonderful thing because it creates a level playing field.
3 DANK Points
How Social Media and Hyperactive Culture are slowly taking over the world.

Saying thank you for things that have not happened yet allows the intention to chase it head-on.

Social Media and Traditional Media correlate very well with people.
Links
Does your cannabis, hemp, CBD company need to improve local or e-Commerce sales? Set up a time to speak with us at Calacann – Cannabis Marketing Agency (https://calacann.com/grow) to discuss how our digital marketing, search engine optimization (SEO), web design, affiliate/referral marketing or influencer marketing campaigns can help you. Home of the D.A.N.C. Method.
Spotify | YouTube | Soundcloud | Stitcher
Follow