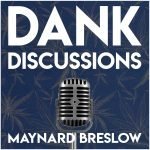 Michael Merriweather is the owner of Baba Holistics, a South Dallas based Black-Owned e-commerce CBD store that was built by word of mouth marketing and personal branding. Mike joins me to talk about his goals to breakdown the misnomers of what CBD actually is by using education and the community around him. He strongly believes that catering to your customers and building strong relationships with them is the key to truly finding success in any business. With Baba Holistics he aims to continue bringing education about CBD full circle by having his current customers teach newcomers.
Right off the bat, Mike shares his journey up the ladder of entrepreneurship. While working for a finance company in New York, Mike tells me he began seeing CBD and Cannabis being advertised on New York's infamous trucks, bodega corner stores, and even on Groupon. This being before any form of Cannabis was legalized in New York, Mike knew that it was an up and coming trend. He vowed to himself that he was not going to miss out on it and started doing more research.
After stumbling upon story upon story of CBD healing people around the country, Michael became inspired. He was especially moved by the story of Charlotte Figi from Charlotte's Web (who we tragically passed away in April). Michael then realized that he knew so many people within his community that would undoubtedly benefit from CBD. After the farm bill passed, he was able to step into the industry. Now, with Baba Holistics, he is able to cater to all of his customers and help them find the relief they need.
Bringing your business full circle with the help of Education & Community
Next, Mike tells me how CBD came into his life as his own need for relief. As a basketball player growing up, he was diagnosed with chronic knee pain. While starting Baba Holistics, Michael believed he had to get extensive knee surgery because of the pain. Since being on CBD, he is no longer in need of surgery. Michael even has his current customers help educate newer customers about CBD and by sharing their stories. By doing this, he feels as though he is truly bringing Baba Holistics full circle. 
"Social Media is the Best Tool to Build Relationships with Your Clientele"
Third, we talk about how important it is to have a good social media presence if you only have an e-commerce store. By having conversations with his customers about their questions and the issue they're trying to solve, Michael has found that his customers trust him even more. He explains how an online presence is one thing, but it's not enough when you are in the position of selling products or services. If you have a great online presence along with a horrible personality, nobody will want your services. On the other hand, if you have a terrific online presence along with a kind and professional attitude, your customers will flock to you. With CBD as a misnomer product due to the many other cannabinoids, education is the most important thing.
Specifically Serving the Black Communities in the South
Finally, we deep dive into the stigmas and overt racism that is a reality within the industry. As a Black person, Michael is proud to be in the cannabis space to make his own impact. His passion for cannabis is strong and he feels as though Black people are underrepresented in the industry. It is very clear how important it is to talk about cannabis justice, especially during these times. Michael also tells me that most of his CBD customers are mostly from Black communities in Alabama and Georgia. Cannabis as a whole is a helpful and natural product that can help anyone and everyone with so many issues. We must educate people on that along with inclusivity for People of Color to even be in the cannabis space without negative stigma. Michael believes that with work, effort, and education, we will create the inclusive space that we want. 
3 DANK Points
Growing gradually by having a second job while also starting a cannabiz.

The branding on your profile opens opportunities to sell.

Being a Black Business Owner in an underrepresented industry.

Always be prepared for opportunity to knock on your door.
Links
Does your cannabis, hemp, CBD company need to improve local or e-Commerce sales? Set up a time to speak with us at Calacann – Cannabis Marketing Agency (https://calacann.com/grow) to discuss how our digital marketing, search engine optimization (SEO), web design, affiliate/referral marketing or influencer marketing campaigns can help you. Home of the D.A.N.C. Method.
Spotify | YouTube | Soundcloud | Stitcher
Follow