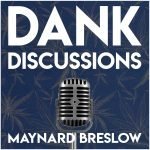 Chris Patillo and Adam Byrd are the owners of Wichita Falls Texas Hemp Company LLC and see hemp farming trending towards big agriculture. Adam has had a condensed cannabis education over the last 2 years, and Chris has been in the industry for over 5 years now. The two of them have both been advocating for hemp for years. After the passing of the 2018 farm bill, they knew it was time to spring into action and bring the cannabis industry as a new industry to their home town. WFTHC strives to give as much to their community as it has given to them.
Chris and Adam join me to talk about how big a powerhouse Texas will become as it continues forward in the industry. First, they explain to me how there is a lack of clarity in the market. Also, why it is not moving as fast as it should because of misinformation spread about hemp and cannabis. With this being said, farmers should be navigating through the cannabis space in a way that is educational and beneficial. Next, we discuss consolidating the stigmas of owning a hemp business while being in the bible-belt as God-fearing people. Lastly, we deep dive into how WFTHC is helping farmers to build up their individual needs on a micro within a macro level. Chris and Adam strongly believe that the good guys will always win if given the opportunity to do so. They know it takes a village and they tell me that their hope is to make their village as strong and far-reaching as hemp itself.
The Power of Hemp: From 80 Years of Prohibition to Big Agriculture
The symptoms of the prohibition that is the Hemp industry is a threat to long-standing industries. We don't talk enough about the fiber side of cannabis and how there will be a radical shift from a petrol paradigm to a plant-based economy. According to Chris and Adam, we will have a different approach to every way of life within the next 5 years. Whether it's from where your goods are produced, how they are produced, or how they are being brought to you. Hemp provides the ability to increase your profitably while decreasing your carbon footprint and the amount of work you put in. With that being said, there are a plethora of opportunities in hemp that is beyond the cannabinoid aspect. Wichita Falls Texas Hemp Company aims to spread seeds of knowledge about the hemp plant and the uses and implications it has all over Texas and the world.
3 DANK Points
Why having the right expectations is the key to being a successful farmer

Cotton VS Hemp: what is a single harvest worth to farmers?

The insanity of having to follow the arbitrary .3% Delta-9 THC regulation
Links
Spotify | YouTube | Soundcloud | Stitcher
Follow