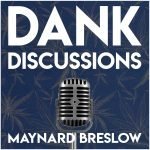 Rob Mejia is an Adjunct Professor at Stockton University, Writer for NJ Cannabis Insider, and President of Our Community Harvest. Based in Northern New Jersey, Rob teaches various cannabis related-topics such as medical cannabis, cannabis internship preparations, and social justice and cannabis classes. On the other hand, his company helps provide cannabis education for the general populace, business owners, and government officials. Today, Rob talks to us about his insights into the growing cannabis industry, his undying commitment to his students, and his perspective on what lies ahead for the cannabis industry as a whole.

First, Rob applauded New Jersey's vote to legalize cannabis for adult use last November. With this joyous occasion, the cannabis industry in New Jersey is now starting to grow. Rob expects more businesses and job opportunities to pop up left and right, with his students benefiting greatly from it.
Setting Things in Motion
Rob explains that the New Jersey Cannabis Regulatory Commission's initiative to devote funds is an excellent first step because money is required to move the market, train and educate people, and give them a stake in the business. However, Rob believes that letting local municipalities figure out what to do is an excellent move since each township has its own goals to meet and issues to fix.
As a volunteer member of the Cannabis Advisory Committee, Rob is on the lookout to provide job training programs and ensure they are all up and running. This can help people get into the cannabis industry with good jobs and make a life for themselves or become entrepreneurs.
Protection for Startups
With the inevitable rise of the cannabis industry, it is a no-brainer that predatory corporations would try to trick small and growing businesses. Rob elucidates that the New Jersey Regulatory Commission put management service agreements where social equity applicants should have ownership for three years. Not only will it give them time to keep their business going, but it will also not allow predatory companies to take advantage of them.
Rob noted that not every company wants to keep its business within three years, and hence, they also have the choice to sell their companies if they want to. This three-year limitation was a mechanism to protect startups who want to establish themselves and see how far they go with their newfound endeavors.
A Teacher's Dilemma
The cannabis industry is flourishing, and as an educator, Rob wants only the best for his students. He explained that their education program was designed to have major dealings with Multi-State Operators (MSO). His dilemma stems from providing opportunities for these big players vs. small growers. MSOs have the infrastructure and expertise, but it is also important to notice small operators making names for themselves.
Rob always reminds his students that whoever they want to work with in the future should ensure that their values align. As a teacher, Rob hopes to provide the best opportunities for his students. But he can only go so far as presenting the options since the final decision still lies in the hands of his students.
"The thing I like the most is to introduce my students to as many possibilities as I can, see them get out of the field, and succeed."
3 Dank Points
A teacher's mission is to provide the best opportunities and education for their students.
The rapid growth of the cannabis industry is inevitable as more businesses and job opportunities start to pop up.
New Jersey's vote to legalize the use of cannabis for adults is a great impetus for the neighboring states.
Links:
Rob Mejia's LinkedIn: https://www.linkedin.com/in/rob-mejia-60a591173/
Our Community Harvest Website: https://www.ourcommunityharvest.com/
Our Community Harvest YouTube: https://www.youtube.com/channel/UC6koZKwhYxVf5_aQ7H0_4mg
Our Community Harvest Facebook: https://www.facebook.com/OCHarvest/
Does your cannabis, hemp, CBD company need to improve local or e-Commerce sales? Set up a time to speak with us at Calacann – Cannabis Marketing Agency (https://calacann.com/grow) to discuss how our digital marketing, search engine optimization (SEO), web design, affiliate/referral marketing or influencer marketing campaigns can help you. Home of the D.A.N.C. Method.
Spotify | YouTube | Soundcloud | Stitcher
Follow