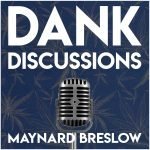 Razor Andrew Lopas is an author, cultivator, and distributor of cannabis and cannabis products since 1978. He is also the founder of companies such as OG RazorGrown, Mystic Spring Farms, among others. In this episode, Razor shares his story growing up in the cannabis industry, how he survived the plant's criminalization, and the true meaning of legalizing cannabis.
Cannabis was in Razor's life way before he was born. His great-grandmother lived in New Mexico and used different plants, including cannabis, for medicinal purposes. After being born in Brooklyn, Razor moved to California at the age of one to live with his grandmother. His first interactions with cannabis intensified as he was raised by uncles and aunts involved in growing and transporting cannabis, although it was illegal at that time.
Razor then explains to me how cannabis helped him in his youthful age and adolescence by bringing him peace of mind and balance. At the young age of 11, his uncle would give him a few pounds which he would roll into joints that sold for a dollar each. He continued helping his family in watering their cannabis plants but never did any of the planting and trimming until he was 14. At the older age of 16, his grandmother gave him 12 female cannabis plants. He then ran away to California with the plants and met some Cowboy stuntmen in Topanga Canyon. They allowed him to stay on the ranch and care for the plants in an old trailer. At the end of the season he harvested 35 pounds.
Traveling the World to collect Strains
Razor traveled to different countries to collect different varieties of cannabis grown in other countries. He traveled to the Middle East countries such as Beirut, where he had a friend and learned about indoor cannabis cultivation. Upon inquiries, all answers led him to Amsterdam. He then started visiting Amsterdam after every harvest to learn more about indoor cultivation. It was not until 1987 when he started planting cannabis indoors. With no internet at the time, Razor relied on word of mouth to get information about different varieties of cannabis grown in other countries before traveling there. He visited India, Lesotho, Bali, Thailand, Afghanistan, South Africa, among other countries, in his quest to gather several cannabis varieties.
He notes that he did most of his traveling hopping trains or hanging on to trucks until he reached his destination.He also avoided boarding an airplane at any given time. This was the only way he could avoid getting busted while carrying illegal cannabis on his person. Razor became confident in his endeavors, and could walk up to anyone and ask them about cannabis. While some threw him out, most accepted him. He also avoided the cannabis growth shops since the police had their eyes around them. That's how he survived and did business.
Indica and Sativa aren't real
Razor says cannabis variants and strains are just an idea, and that the different names are just for marketing purposes. There is nothing like Sativa and Indica. The real difference depends on how you ingest cannabis and how you prepare the plant materials. Brokers and distributors are so focused on the THC levels because they know the higher the THC levels, the more consumer curiosity and final sales. However, most of the effects result from the suggestive ideas on people's heads through packaging.
What does Real Legalization look like?
Razor says that although cannabis is now legal in many states in the United States, there's still a long way to go for the country to achieve the true meaning of cannabis legalization.  He notes that most families were damaged in the past, many are still in jail, and people were killed during the war on drugs. Razor reveals that the war on drugs was just a conspiracy to keep people culturally in control. The criminalization of cannabis was to keep African Americans as slaves and used to evacuate the Mexicans at the border by filing charges against them and arresting them.
Actual legalization means releasing those arrested or affected and the government owning up to their mistakes. He insists that until the injustices done to people concerning their involvement with cannabis are addressed, America is still too far from legalizing cannabis. Razor mentions that his grandparents lost their trading post and had to become farmworkers to earn a living. He strongly believes that the government needs to apologize to those who were hurt by the harsh and unfair regulations to everyone.
Moving Forward
Razor hopes that actual legalization will happen someday. He dreams that his grandchildren will live to enjoy the freedom of and get involved with cannabis, as a means to pass it on to the next generation. He is hopeful that this will happen without the strict regulations currently in place. Cannabis holds a symbiotic relationship with human beings for over 100,000 years ago. It is not for just profiting and business purposes. Razor wants people coming into the industry to know how passionate they must be about the plant and to throw away their business mind if they want to succeed. He hopes for a future where cannabis is thriving, and people respect the culture and everything about the incredible plant.
"Success for me is trying to keep your family safe. Everything I'm building now is about leaving something for the next generation."
3 DANK Points
There's no such thing as indica and sativa.

We still have quite a long way until the actual legalization of cannabis.
Cannabis's relationship with human beings dates back tens of thousands of years ago.
Links
Does your cannabis, hemp, CBD company need to improve local or e-Commerce sales? Set up a time to speak with us at Calacann – Cannabis Marketing Agency (https://calacann.com/grow) to discuss how our digital marketing, search engine optimization (SEO), web design, affiliate/referral marketing or influencer marketing campaigns can help you. Home of the D.A.N.C. Method.
Spotify | YouTube | Soundcloud | Stitcher
Follow