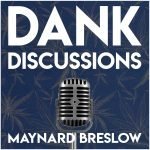 Doug Schneider is the Co-Founder and Chief Business Development Officer, and Silvana Nardone is the Co-Founder and Chief Creative Officer of Via Viaggio. Based in Brooklyn, New York, and Dobbs Ferry, New York, Silvana aims to utilize her culinary expertise to transform CBD-infused gummies into something spectacular. With Doug guiding and supporting her through countless trials and errors, they were able to create an amazing product that shook the New York cannabis industry. Today, Silvana and Doug share their transformation journey, what an adaptogen is all about, and the pressing challenges they are currently facing.

First, Doug explained that their products gained a reputation after a year in the market. With the legalization of recreational use of cannabis in New York, It is exhilarating for him to witness how the industry unravels when everything falls into the right places. They are only waiting for the right opportunity to expand more, but at this moment, they focus more on how to cultivate a thriving CBD brand.
Adaptogens vs. Normal CBD Products
Silvana explained that an Adaptogen is a plant medicine used for centuries across cultures and countries. Adaptogens can "adapt" with what the body needs. They mostly refer to botanicals that "adapt" to your body's needs—tranquility, sensuality, energy and immunity. CBD naturally interacts with your endocannabinoid system to naturally regulate our body's balance and vitality. When combined with CBD, the benefits of all plants are enhanced. Whether it's more relaxation, excitement, immunity, etc., it is pivotal to everyone's lives as men and women. Silvana further explained how they partnered with apothecaries who do plant extractions with adaptogens expertly. Their vivid and expanded knowledge of adaptogens inspires her to learn more about its nature and what more it can offer.
Questions surface on the mind of their clients, "What made adaptogens differ from normal CBD products?" Silvana explained that everyone knows what CBD does according to countless scientific studies, but people still question them. Hence, the best way to understand its difference is to taste them to actually "feel" the difference. 9 out of 10 people, according to Silvana, say that there was a difference between the two, and they become a believer in what adaptogens have to offer—better than normal CBD products.
Pressing Challenges
Doug explained their challenges in making a product they would be proud of. They only wanted the best in class for their clients. He further explained the challenge of putting up a functioning website, integrating it with the merchant processing system, and finding a bank to work with them. Doug also added that even if they gained much traction with adaptogens in their community, it is still difficult to get publicity and press because of how competitive the market is.
Despite these challenges, Doug was glad to find out that people in the psychedelic space are willing to help and share little tips and tricks to get past these hurdles. Some friends support and patronize their business. Most importantly, the positive feedback and testimonials they get from their loyal clients.
The Future of Adaptogens
Silvana explained how Via Viaggio was invited to participate in a local farmer's market. However, they received an email telling them to not publicize their participation because they were not allowed to have CBD edibles. Doug expounded that even if CBD is already federally legal in New York, the State Board of Agriculture prohibits the selling of edible CBD in farmer's markets, in which the local farmer's market they participated was unaware. Despite the issue, Via Viaggio set its sights to expand to other places—beyond the locality.
In conclusion, everyone aspires to succeed in any endeavor, which is true for Doug and Silvana. Silvana describes success as flow and rhythm, and she believes that rhythm takes her to great places, makes their lives happier and simpler. On the other hand, Doug believes that success is having maximum creativity without being stifled. As long as they create something together, success has no limits!
"As individuals, we have the power to help or hurt ourselves. Sometimes, we make either good or bad choices."
3 Dank Points:
An adaptogen is a plant medicine that aims to cater to and adapt to the needs of our bodies.
Legalizing cannabis does not imply that other regulatory boards will have the same opinion.
Culinary experience transforms CBD products and elevates them to a whole new level.
Links:
Via Viaggio Website
Via Viaggio Facebook
Via Viaggio Instagram
Doug Schneider LinkedIn
Silvana Nardone LinkedIn
Does your cannabis, hemp, CBD company need to improve local or e-Commerce sales? Set up a time to speak with us at Calacann – Cannabis Marketing Agency (https://calacann.com/grow) to discuss how our digital marketing, search engine optimization (SEO), web design, affiliate/referral marketing or influencer marketing campaigns can help you. Home of the D.A.N.C. Method.
Spotify | YouTube | Soundcloud | Stitcher
Follow