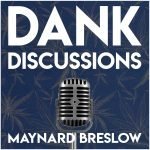 Christina DiArcangelo is an entrepreneur and CEO working for over 20 years in the traditional Biotech, Pharmaceutical, Medical Cannabis, CBD, Nutraceuticals, Patient Advocacy, and AI Technology. She is also the founder and president of Affinity Bio Partners, a global clinical research organization, working all over the world to help patients receive the most precise and professional care. 
In this episode, Christina shares with us her background in patient advocacy, her transition from Christianity to the Baha'i faith, and how Affinity Bio Partners aims to transform the whole meaning behind patient advocacy in the cannabis industry. 
The Genesis of a Hybrid Individual
Originally from Pennsylvania, Christina considered herself a hybrid individual. She grew up in the Philadelphia area, moved to North Carolina for her career,  and later moved out of the Bay area. With all her family being Christians, she transitioned into the Bahai religion while living in California. When she came back home, she found herself 'behind' and even considered herself an outlier in the family. Unfortunately, Christina's father lost his life to cancer in 2015, she decided to help people from a therapeutic and mental awareness standpoint. This is when she decided to transition from christianity to the Baha'i faith.  
The Baha'i Faith and Cannabis
She says the foundation of the Baha'i faith lies in one factor: universal justice. She is a firm believer that everyone, regardless of color, gender, or what they practice from a religious standpoint, all have equal rights. The Bahai religion is the whole concept of charity, your actions, and what you do. For Christina, patient care comes first, and she started Affinity Bio in 2015 before her dad passed on. Two days after he passed, the company got approved and started operating as a non-profit. Christina's father also loved helping people. Towards the end of his life, he embraced the Bahai religion and was incredibly proud of what she was doing for others.
Christina's company started helping cancer patients before she started getting into the cannabis industry. At a later date, they quietly made an entrance into the cannabis industry. They stayed in the closet due to the strict regulations that barred them from operating in the industry. However, she says, people started recognizing their works and what Affinity Bio Partners did because they were involved with research in the industry. She says she didn't care about the law since she did not touch plants but was fully on research and studies. The company later started advocating for patients.
Facing the Pandemic Challenges
Christina says the biggest challenge she has faced in the industry is COVID-19. She can't run trials because patients are afraid to come out of their homes for fear of contracting the virus. However, they resolved to technology by organizing virtual visits through and working with home nurses to supplement patient visits. The other challenge she notes is the problem of moving cannabis products from one state to another without a DEA license. She emphasizes that cannabis should not be treated in this manner. 
"It's just a plant that lies in the nutraceutical category and not biological."
The Future for Affinity Bio Partners
Currently, Affinity Bio Partners is a global clinical research organization working all over the world, organizing, managing, optimizing research, and also helping find patients through AI bots. The company works both in the traditional space and primarily in the nutraceutical space by way of Medical Cannabis. However, the company was among the first ones to start working and researching COVID-19 in March 2020. They are now working with the White House administration in the same roles. Christina says there are plans to conduct a head-to-head study on traditional farmers versus cannabis where there will be a 90-day one-doctor observation conducted. There are also plans to conduct multiple studies on women's health, mental health, ADHD, and Pediatrics in the cannabis space. 
"Success for me is really seeing that we are truly helping patients with whatever it is that we're doing."
3 DANK Points
The relationship between cannabis and the Baha'i Faith.

The Neutraceutical space in Medical Cannabis verses the Traditional space.

Whatever you do, always try to make a positive impact on people's lives.
Links
Does your cannabis, hemp, CBD company need to improve local or e-Commerce sales? Set up a time to speak with us at Calacann – Cannabis Marketing Agency (https://calacann.com/grow) to discuss how our digital marketing, search engine optimization (SEO), web design, affiliate/referral marketing or influencer marketing campaigns can help you. Home of the D.A.N.C. Method.
Spotify | YouTube | Soundcloud | Stitcher
Follow