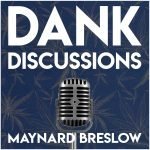 Jason Henson is the CEO of Nature's Therapy CBD, based out of the great Canyon State of Arizona. In this episode, Jason talks to us about why lab testing and full panel testing are so important for anyone selling Cannabis products, and explains what factors go into those types of testings. He also touches on what we can do about product accessibility in the state of Arizona for people who may need CBD, but don't have the resources to acquire it. Lastly, he shares his passion for helping people and advocating for everyone to have easy access to cannabis products.
First, Jason talks about how the cannabis industry in Arizona has progressed by leaps and bounds. They're starting to adopt the California and Colorado guidelines, which are the ones that should be set for the FDA. According to Jason, the good thing about Arizona is that they're also a recreational state. Baby boomers were Arizona's most loyal customers. Baby boomers are on the search for something unique. They want medicinal relief without having to spend all of their hard-earned money on pharmaceutical drugs, which may mount up to more than a mortgage payment in some situations.
Getting into Cannabis
Jason shares that he has type one diabetes. Even though he played sports, ate well, worked out, and did all the right things, it still affected him. He says, once you get out of your younger years and get into your professional years, your diet of working out turn into long hours at the office. Those long hours and bursts of stress started to add up. Jason's body went into shock, and he started developing seizures and neuropathy. As the side effects were getting worse, Jason went to the hospital found out he had very low blood sugar.
Jason didn't start using the CBD beyond probably until the end of 2010, since that's when he found a good resource. Over the next two years of taking CBD, Jason was able to get off of 15 different medications. He says that the THC, CBG, and CBN helped him out immensely. He then started making simple formulations for his friends, particularly his friends in the veteran's community. That's when Jason's mission became a passion, and that's how Nature's Therapy CBD was born.
Stigma towards Cannabis
There is so much stigma towards marijuana. People think that anytime someone says marijuana, they're talking about the stuff that Cheech and Chong love. Jason educates people on what CBD is and makes sure that they understand exactly what it is. He had a friend who owned and operated a laboratory, and Jason was testing all of his CBD in the lab. This was so he could really show the proof of how incredible the cannabinoid CBD is.
Most people like to go organic to make sure that they don't have those pesticides parts per million and everything else. We have to get back to those days of trying to be as natural as possible. Jason explains how his great grandfather taught him to take care of customers. He says, as long as you put the customer first, you'll never have to worry about putting food on the table. We all know a company needs compassion and great customer service to survive, but if you don't have a great product, then what are you doing?
Formulation for Pets
If you Google pet foods in general and look at the ingredients for most name brand products, it will scare you to see how a lot of that stuff is made. These formulations are not just for the longevity of shelf life, but instead for brands to be able to produce mass quantities with smaller amounts of ingredients. Many manufacturers will use crude oil, and crude is still probably two or three stages away from being a distillate. This is why Jason started doing CBD for pets. Not only do his products have tons of organic blueberries, apples, carrots; they are also 80% protein 20% fiber!
"I think the more that we educate, and the more people like myself that have had true benefits, it's just going to open up the doors for other people to try it."
3 DANK Points
Having a great product is more important than having a lot of money.

Education is incredibly important when it comes to owning a cannabis business.

If our purpose is to help people, we must figure out how to make Cannabis more accessible.
Links
Does your cannabis, hemp, CBD company need to improve local or e-Commerce sales? Set up a time to speak with us at Calacann – Cannabis Marketing Agency (https://calacann.com/grow) to discuss how our digital marketing, search engine optimization (SEO), web design, affiliate/referral marketing or influencer marketing campaigns can help you. Home of the D.A.N.C. Method.
Spotify | YouTube | Soundcloud | Stitcher
Follow