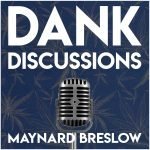 Lauren Forsch is the Founder and President of Popped.NYC, a brand that helps people find relief with CBD products and through consultation. Lauren defines herself as a canna mom. In this episode, she talks about CBD education, stigma, and working as the caretaker's caretaker. She also shares with us her journey, how she got into the industry, the obstacles, and the bright future ahead for her POPular brand. 
Lauren first tells us how happy she is to have been part of the amazing team of people who pushed for the legalization of cannabis in New York City. She has advocated for cannabis legalization in New York from the beginning. She was also present at the Governor's listening session when they decided to start talking about cannabis laws in New York a few years ago. She also gives credit to several organizations, individuals, attorneys, doctors, friends, and family for making it happen in the state. 
Smoking in the Shadows
Lauren says she was a cannabis consumer since she was 15. With her background in advertising, sales, and graphic design, Lauren got curious and saw the need to understand stigma and culture. She used her journalism background to meet other likeminded people in the industry and ask them questions. She also did a ton of research, and later decided to create her product line.This was the result of her desire to become an entrepreneur at some point in her life, after she felt she had already fulfilled most of her dreams; becoming a mom and a wife. She went to Google and searched for recipes, listened to people, and knew what they liked. She later put all these into her brand, Popped NYC.
Getting Rid of the Stigma
Lauren says she had a pretty good life as a kid but always saw herself as an outsider. She believes the stigma came from parents as part of the daring culture of being a teenager. She was always curious about drugs, but was scared to get involved with them. While working in the advertising industry, she spent 3 years coming up with her brand after meeting customers and thinking about who they were. She realized that more of her customers were people who had pain because they were neglecting themselves.
Lauren says she is trying to create a place where you should help yourself first to be able to help others. She explains how her biggest obstacle is fear and the physical pain was just the manifestation of the fear. However, she has been working on her health, both physical and mental to get strong and ready for the coming years. She's currently working on promoting her THC-free products; such as her body butter which has all a bunch of natural ingredients. The product will be featured in the coming trade show that will soon be announced.
"Success to me is that I'm providing for my family. I have time for myself."
3 DANK Points
Cannabis unites everybody, without discrimination
You need to help yourself for you to be able to help other people
There's a need to end the stigma and normalize cannabis consumption
Links
Does your cannabis, hemp, CBD company need to improve local or e-Commerce sales? Set up a time to speak with us at Calacann – Cannabis Marketing Agency (https://calacann.com/grow) to discuss how our digital marketing, search engine optimization (SEO), web design, affiliate/referral marketing or influencer marketing campaigns can help you. Home of the D.A.N.C. Method.
Spotify | YouTube | Soundcloud | Stitcher
Follow