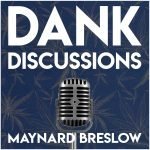 Len May is the CEO of EndoCanna Health, a company created to answer one simple question: How do we help everyday people find a cannabis product that's right for their unique needs and genetic makeup? Their team of professional cannabis researchers, scientists, activists, and advocates have created Endo·dna; a simple DNA test that maps your endocannabinoid system and then matches that summary with a specific cannabinoid ratio and terpene profile aligned with with your unique genotype. Located in Studio City, LA, Len is also the host of Everything is Personal podcast, and an accomplished public speaker featured in Entrepreneur, Bloomberg, Rolling Stones, and Forbes. We are excited to have him on the show!
Len first shares how during COVID-19, the connections we make with others in person is completely lost. Even just sharing a joint with other people is an opportunity for connection that we are missing. Len May tells us a story of when he was in a club in Philadelphia where Slick Rick was brought into the stage and started asking if anyone has a joint. Len got to share Slick Rick's first joint out of jail with him. He mentions that although they did not make a relationship, they made a real connection. Other experiences he has had created connections for him, that then created memories to last a lifetime, that lastly create the stories he is able to share with the world.
Using ADD to Your Advantage
Len explains to me how ADD and ADHD can be used to your advantage if you know how you can control and utilize them. ADD or ADHD is depletion of dopamine, your brain makes ways to find or generate dopamine. You need to know how to control it. According to Len, one effective way of controlling it is creating a structure on your day, creating systems to have structures on your work. When you create dopamine hit is you can hyper-focus on that. Another thing that helps is getting the right cannabinoid formulation, getting a balance of CBD and THC to create a serotonin boost to give off a little bit of focus. You need to get to a level where you can relax. Understanding how you navigate through your day and having a perspective on how you see things are the most important factors in using ADD and ADHD as a secret superpower towards getting focused.
M

atching Physicality and Mental Cognition

It takes 20 mins for our brains to recreate focus when getting back to work, and we all know getting distracted can be a killer. Len May finds email to be focus killers most of all. For others, it may be social media or video games. social media apps and video game companies tend to find how they will be able to blast as many dopamine hits to get a person to focus more on the screen. They have created these systems to fill us up dopamine and collect data based on our interaction. Len's best advice for this is to train your mind to receive dopamine on the things that you value. Ask yourself, how does it benefit me and how does it benefit others? How am I going to strategically plan how to get through today? Len solves this by getting the work he needs to have done at a different time of the day where he finds it easier to be focused. In doing this he manages his sense of focus and uses it for work that takes priority over other things. A person must learn to reconnect to their body and put their mind into a relaxed state for focus to even come into the picture. When these elements are in unison, you enter the flow.

"Success is waking up every day, being grateful for another sunny day, being able to inspire, motivate, and make a difference in people's lives."
3 DANK Points
Links
Does your cannabis, hemp, CBD company need to improve local or e-Commerce sales? Set up a time to speak with us at Calacann – Cannabis Marketing Agency (https://calacann.com/grow) to discuss how our digital marketing, search engine optimization (SEO), web design, affiliate/referral marketing or influencer marketing campaigns can help you. Home of the D.A.N.C. Method.
Spotify | YouTube | Soundcloud | Stitcher
Follow