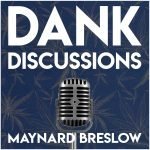 Raemon Davis is a Mom, Life Partner, and the Owner of Fleur Botanicals. Fleur Botanicals is a seed-to-sale CBD business in Bernie, TX just outside of San Antonio. Raemon and her husband Robert know first hand the benefits of what CBD can do for anyone's mental and physical well being. That's why their mission is first to educate consumers about the benefits of CBD, and then to help them find the right product for their mental and physical wellness.
Raemon joins me to talk about her experience in entering the industry. First, she tells me that Texas has had a slow but increasingly enthusiastic reception to hemp. She noticed that her consumers were grateful to have something new to learn about and try for themselves. On the other side of the spectrum, people who are uneducated and haven't given it the time of day are still throwing negative stigma towards cannabis. Next, Raemon speaks about the regulations, or lack thereof, on cannabis in Texas. She tells me how she and her husband had to take all of their paperwork and lab work to several meetings with authorities in their town. The authorities were indifferent to their pitch, but one of them had said that he has CBD in his medicine cabinet. 
Recovering from Clonus with the help of Love and CBD
Raemon met her husband 24 years ago, who had been in a motorcycle accident 3 years prior. He is currently a T6 Paraplegic and hasn't walked for 30 years. The hardest thing for him to hear was that his insurance did not want to reimburse him for his wheelchair. This fueled him to become an avid athlete and wheelchair cyclist. He has scaled the Rocky Mountains to name one of the many adventures he has conquered in a wheelchair. 5 years ago, he developed an ankle clonus that turned his world upside down. Raemon tells me that they tried everything from creams to narcotics. The side effects of the narcotics were causing her husband the same if not more pain. We must remember that big pharma is not necessarily the real problem in these circumstances, it's just not the answer for some people and their diagnoses. 
Robert had a friend in Colorado who owned a dispensary. His friend told him about CBD and how much it has helped him with the physical challenges of being in a wheelchair. Being a lawyer, Robert did more research and found a reputable place to buy CBD in Texas. After a year and a half of sleep deprivation, Raemon's husband could finally sleep. They began to record the products and dosages he was taking. This led them to dig even deeper into the CBD industry and open Fleur Botanicals with only the best intentions. 
3 DANK Points
After trying all types of topicals and narcotics, Ramon's husband, a T6 Paraplegic, found relief from clonus with CBD
Having to initially go to Colorado for reliable products led them to create a solution of their own
Texas stigmatized all cannabis but is now quickly adopting hemp-based products
Links
Spotify | YouTube | Soundcloud | Stitcher
Follow