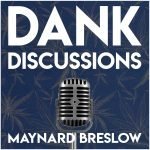 Sarah Cotterill is a former health care lawyer and executive. Located in Indianapolis, Indiana, she is currently the CEO of Shift Next Level and Lineage Ventures. In this episode, she shares her background, explains how her company Shift manufactures and wholesales gourmet hemp and cannabis chocolate edibles with a larger mission of create and support regenerative systems of health and healing in the body and larger community. She touches upon the state of hemp and cannabis in the Midwest, and talks about the challenges she faces as a cannabis business in the conservative state of Indiana.
A generally conservative state, Indiana has not yet formally addressed cannabis legalization, whether for medicinal or adult usage, despite the fact that it is surrounded by states that have.  Legalization however seems to have broad support – in economic studies, with the members of both parties, and the public. Sarah thinks that behind the scenes, most people agree that cannabis in some way, shape, or form is a good thing and that it makes complete sense to legalize it in the State of Indiana.
Sarah's History in Healthcare
Sarah went to the University of Virginia. She was a Division 1 collegiate springboard diver and returned to Indiana, went to law school, and then worked for a long time at a large law firm based in the Midwest, doing healthcare, corporate and regulatory work. Sarah worked with a broad array of healthcare clients including, physicians and hospital systems on all of their corporate needs. She left the law firm life, bought, and sold hospitals for a brief stint and then became General Counsel and Senior Vice President for a large medical group in the Midwest. A desire to marry the best of different medical approaches led Sarah into regenerative agriculture and regenerative health. She looks at regenerative as a process of continuous improvement and rebalancing and views hemp as an important tool in regenerative work.
Sustainable and Regenerative
Sarah's brand Shift offers gourmet chocolate edibles as a wellness bridge to overall health.  People generally approach cannabis from either a recreational or therapeutic standpoint, and Shift offers trusted products that can fit in either category and help people change their current state. There is however a difficulties that cannabis confronts. While more and more studies are being published, it's often unclear where the research and studies are coming from. And, our bodies have unique operating systems and requirements in the same way each farmer's soil is different and needs different inputs. Hemp edibles and the concept of regenerative remind us and challenges us to honestly keep supporting Mother Nature in our bodies and in soil health and allow for the intrinsic knowing – often if we can get out of the way, nature knows what to do.
Shift Next Level & Lineage Ventures
Shift Next Level manufactures, sells, and wholesales delicious and effective hemp and cannabis derived chocolate edibles.  Shift makes the best melt in your mouth dark chocolate with Icelandic sea salt and creamy milk chocolate edibles in cool geometric bite-size shapes.  Chocolate is a great carrier for THC – and don't you deserve to reduce stress, anxiety, fall and stay asleep longer – all with some chocolate?!
Lineage, on the other hand, produces a highly effective performance and recovery cream geared toward athletes and enjoyed by anyone looking to treat the root cause of much pain and inflammation.   A uniquely curated and targeted stack of ingredients, Lineage performance and recovery cream includes powerhouse including magnesium, Arnica montana, frankincense, basil and menthol. 
"If I cannot do anything that feels heavy, then for myself, I'm feeling good and hopeful"
3 DANK Points
People are continuing to evolve and learn alongside the cannabis plant.

There's nothing that says cannabis reeks the same havoc that alcohol does.

The micro reflects the macro both in the health of plants, our bodies, and the world.
Links
Does your cannabis, hemp, CBD company need to improve local or e-Commerce sales? Set up a time to speak with us at Calacann – Cannabis Marketing Agency (https://calacann.com/grow) to discuss how our digital marketing, search engine optimization (SEO), web design, affiliate/referral marketing or influencer marketing campaigns can help you. Home of the D.A.N.C. Method.
Spotify | YouTube | Soundcloud | Stitcher
Follow