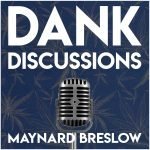 Stanley Atkins II is the CEO and Founder of CanniMedic and Stanley Group LLC, as well as the owner of The Good Medic. Stanley is currently based in Atlanta, Georgia and takes pride in teaching his patients the education of using Medical Cannabis as an alternative form of healthcare. Stanley talks to our host Maynard about his inspirational background in the cannabis industry, the current situation in Atlanta and Georgia when it comes to medical cannabis, and advocating for veterans to have access to medical marijuana. 
Stanley first shares that the Medical Cannabis Cultivation Bill was passed in Georgia in 2019. This bill allows the use of medical cannabis with certain limitations. Medical cannabis in the form of smokeable flower, vapes, edibles, heated cannabis is not allowed. The only medical cannabis allowed are tinctures, oils, and salves. There is also a 5% THC limit which means that the medical cannabis products available should not exceed the limit. Currently, the licensing process for medical cannabis has been done terribly. Various companies are filing protests due to a lack of transparency in the licensing process. This situation causes problems in the medical community for medical cannabis. The current happenings are slowing down the distribution and use of medical cannabis for those who need it. 
Advocating for Veterans
Stanley shared that he is a real drug war veteran. When he was in high school, he got expelled due to his possession of cannabis. After he graduated high school he entered the United States Military, where he served two deployments to the Persian Gulf. He then ended up getting discharged due to Cannabis usage. When he came home, he worked as a Firefighter Paramedic in Metro Atlanta. In the summer of 2014, he became ill due to gastrointestinal problems. He underwent a lot of medications, procedures, and tests, which were not a lot of help. Eventually, he decided to stop all the medications, and the doctors weren't entirely sure how long he would live.  
 After that, Stanley started doing his own research on medical cannabis. He entered the world of social media, where he could join various advocacy groups in Atlanta. He got involved with the state capital to expand access to medical cannabis for those who need it. He worked and participated in medical cannabis bills and decriminalization bills in Georgia, and acted as a representative for the people who needed the medicine. Stanley mentioned that Cannabis was able to help him through his dark times. It is one of the reasons why he is alive today. Stanley became the voice of the veterans; and to this day continues to voice out their thoughts on their behalf. One of his goals is to let the veterans know that they are not alone Stanley believes that he has the right to medicate naturally as he earned it due to his service to the country. 
Harm Reduction and the Opioid Crisis
Cannabis is helpful; however, it does not mean that it can be substituted for all medications that a person has. There are still medications that need to be taken, even if you are taking medical cannabis. When it comes to the THC content of a product, there are some cases wherein a patient develops anxiety and other medical conditions due to high THC content. This is why we must ensure that medical cannabis can be controlled and distributed appropriately to only those who need it. We must educate people on how these harm reduction tools work.
To explain this further, an example was given by Stanley about the opioid crisis in America. He has done some work regarding harm reduction in the opioid crisis. He has completed training and education all about Narcan, the antagonist of opioids. Narcan literally reverses the effect of opioids and can save a person who has overdosed. It can be administered in various ways: injected in the nose to the nasal cavity or via an auto-injector similar to an epi-pen. Harm reduction is important as it can save lives. Stanley strongly believes if everyone learns the effects of drugs and the various ways to reverse their effects, we'll be able to save a lot of lives. 
What is CanniMedic?
Stanley mentioned that they are currently preparing to launch a product line. The first product to be released is a Topical Analgesic product scheduled to be released on the first quarter of 2022. They are also planning to release their patient recommendation program to assist patients trying to buy or get medical cannabis. It will launch in Georgia to expand Southeast. Aside from that, they are also planning on a symposium in June 2022. They have a partnership with Downey Group for Medical Marijuana. Stanley shared that one of the biggest obstacles he has experienced. Trying to educate people about something they are not used to. It's hard to communicate with an audience who has no idea about what he's talking about. For the plans of CanniMedic, he has planned to create his podcast, which focused on hosting health and wealth webinars.
"Success is when the bad days are considered good days, especially when doing something you're incredibly passionate about."
3 DANK Points
Veterans are hit hard with PTSD and mental health issues and are often handed an opioid prescription while cannabis is scoffed at.

The impact of being passionate about what you do in your career, especially when it's helping others.

The importance of teaching people how to use a narcan in the age of a massive opioid epidemic.
Links
Does your cannabis, hemp, CBD company need to improve local or e-Commerce sales? Set up a time to speak with us at Calacann – Cannabis Marketing Agency (https://calacann.com/grow) to discuss how our digital marketing, search engine optimization (SEO), web design, affiliate/referral marketing or influencer marketing campaigns can help you. Home of the D.A.N.C. Method.
Spotify | YouTube | Soundcloud | Stitcher
Follow