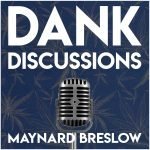 Franny H. Tacy is the first legal female hemp farmer in North Carolina. She is also the Owner, Executive, and Visionary behind Franny's Farmacy, a vertically integrated business that includes hemp growing, processing, manufacturing, distribution, and franchise. In this episode , Franny talks to us about growing Franny's Farmacy, the obstacles she has faced, and how she navigated the road behind franchising.
A History in Hemp
Southeast was predominantly the area where hemp was grown, she says. She says while growing in the South East, hemp was legal and was found almost everywhere. Franny says she wrote a paper while in school about hemp advocating for its importance in society and the power of the plant to "revolutionize the economy." Not only was hemp illegal, but the only way the government legalized hemp was under a test program and it was an agricultural commodity. Before 2017, she got seeds from Italy as it was illegal to transport seeds across America. Franny recalls signing petitions and voting five times to make cannabis legal in her state but to no success. And then one day, the law was passed that it was approved. But something was lacking. No one had experience in the industry at the time. Therefore, to start, they relied on the written notes on how farmers grew back in the early 1900s. She says they were responsible for growing, processing, manufacturing, distribution, and franchising since there was nobody else to turn to in this infant industry.
The Road Ahead
With very few experienced individuals available, Franny says she relied on her best friend Blake Butler, an Executive Director of the southeastern Hemp Association. They then joined forces to advocate for cannabis, educate and create awareness. Franny also says her mindset was so crucial in navigating this new road.
"If I'm interested in something, I will always go out and seek the best,"  
She also relied on a lot of trial and error during the journey to get to where they are right now. Being in a new world, Franny says she had the resources to confront the unusual territory for her. Coming from the corporate world was so crucial. She believes business is about offering a valuable product or service and getting paid for it. This is what they have focused on whilst building their franchising sector.
A Perfect System For Franchising
Franny says the franchise process begins from the website. The client is connected with an inside person, and then market research is done to determine if they are in a location that can run a profitable dispensary. She says 30% of inquiries coming are not in a viable location to make profits. However, they can help in finding a better location. The entire franchise company is involved in finding the best location, stores, distribution, marketing, and setting up so that you just get in to begin running the business. To be eligible for the franchise program, Franny says there has to be personality, integrity, and alignment with other company's values. You also have to meet the financial requirements to be eligible. Franny says restructuring while growing to set up phase 2 has been quite a challenge as they deal with all the processes involved. The huge expansion to the overall market and shifting the business to e-commerce has not been easy. She also notes that banking and advertising hemp businesses are still a challenge as many financial organizations don't want to associate with CBD or Hemp businesses today.
"Success is looking in the mirror and knowing that my thoughts are clear, my mind is kind, and my words are true."
3 DANK Points
Hemp has the power to revolutionize the economy. 

Why being passionate about the industry you work in matters.

Your mindset is the main thing in helping you achieve your goals.
Links
Does your cannabis, hemp, CBD company need to improve local or e-Commerce sales? Set up a time to speak with us at Calacann – Cannabis Marketing Agency (https://calacann.com/grow) to discuss how our digital marketing, search engine optimization (SEO), web design, affiliate/referral marketing or influencer marketing campaigns can help you. Home of the D.A.N.C. Method.
Spotify | YouTube | Soundcloud | Stitcher
Follow