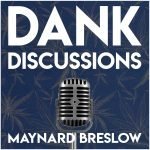 Heather Rubiales is the Founder of Heathers Hemp Alternatives. Based in Humboldt, California, she promotes sustainable and regenerative hemp packaging for hemp companies. In this episode of DANK Discussions, Heather talks to our host about her crusade for environmental sustainability and why self-accountability matters for companies and consumers.
First, Heather started in the hemp industry in 2009 and studied Natural Resources Management. She got immersed in industrial hemp, and after reading Jack Herer's The Emperor Wears No Clothes, Heather ended up writing an extensive research paper on the uses of industrial hemp. However, her passion and fascination on the subject slowly deteriorated as time went by until she moved to Humboldt County in 2017.
Plastics VS The Environment
As Heather jumped from farm to farm as a laborer, she noticed the excessive use of plastic and plastic waste from cultivation to the actual product itself. She observed that many brands claiming to be "regenerative" or "sustainable" don't practice these values. How can you call your company sustainable if you still constantly produce tons of plastic waste? This is a blatant show of hypocrisy from these companies.
Heather believes that the main "hiccup" in the hemp industry are, the lack of creative startups who want to challenge the status quo, the profit over the environment, and the lack of infrastructure. She argued that although industrial hemp was federally recognized, why is sustainable packaging still a hit or miss? It's because companies care more about profit than the environment and lack investors to support creative startups to challenge the status quo. Heather also noted that industrial hemp is competing with the petroleum industry. Since industrial hemp utilizes backyard compostable hemp bio-resin, which competes with the petro resin, it will always be profit over environment until both are equal.
Self Accountability
The lack of education for the general populace and understanding how detrimental plastic is to the environment is the thing Heather wants to promote. She explained that only 9% of plastics globally are recycled, which is a severe issue. The cannabis industry should not be a part of the plastic pollution but a part of the solution, and Heather hopes that the psychedelic space should promote it and become a good face for the industry. On the other hand, everyone should be held accountable—whether the company or the individual. Although it's not easy to live completely zero-waste, everyone should be mindful of plastic usage. Don't be disheartened that it's just "YOU" who practice this value because a single drop still ripples. Be a great example in your community, and if you still point fingers at others, don't forget to point it to yourself as well.
Making an Impact
You don't simply pass a judgment on others. Instead, educate and inspire them. If you're an entrepreneur, you don't just impact people but also the environment. That's what an entrepreneur should aspire to. Not only would it help you make profits at the end of the day, you don't just help your family and yourself, but also your community.
"Once you have your eyes opened to the reality, it's hard not to look back. Ignorance is bliss. I was a lot happier before until I realized all this baloney in the world."
3 DANK Points
Self-accountability plays a vital role in environmental sustainability.
Many companies claim to be sustainable and regenerative but don't actually practice such values.
Market competition and government regulations will either promote progression or regression.
Links
Does your cannabis, hemp, CBD company need to improve local or e-Commerce sales? Set up a time to speak with us at Calacann – Cannabis Marketing Agency (https://calacann.com/grow) to discuss how our digital marketing, search engine optimization (SEO), web design, affiliate/referral marketing or influencer marketing campaigns can help you. Home of the D.A.N.C. Method.
Spotify | YouTube | Soundcloud | Stitcher
Follow