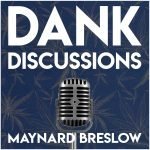 Ianto Morgan Jones is the CEO and founder of Mon Naturals, a Welsh skincare company that has revamped its 200 year recipe for skincare cream to a new cannabis-infused product. Ianto joins us to talk about the rocky path towards the legalization of Cannabis in Wales, and the strict regulations surrounding cannabis in the United Kingdom.
First Ianto tells us how Mon Naturals is a local family business that traces its history back to 300 years ago, although it was only established in 2016. The family has been producing a traditional animal-based mineral balm for over 200 years. The cream is used to heal skin burns, dermatitis, eczema, wounds, athlete's foot, and many other skin conditions.
A Different Type of Cosmetic Salve
Ianto says there was a need to change from animal-based balm to plant-based. Although it was extremely powerful, commercializing it was a problem as many companies did not want to put the ancient animal oil on their shelves. As a result, they resolved to come up with an exact match but plant-based oil. He says it took them 18 months to research and ensure they get the match while combining natural ingredients to duplicate the animal oil. Although cannabis is illegal in the UK, this is when Ianto decided to include CBD into his products. Ianto said they proceeded with testing over 400 individuals with the product, which gave phenomenal results. He also says the research is still ongoing and relies on their partnership with various learning institutions to help them validate their cannabis products for medicinal purposes. He mentions that although cannabis is available to the public, doctors don't give it. He admits that people have been using cannabis oil to treat cancer, especially during the lockdown, when many have had no access to medicare.
Cannabis Making a Come Back in Wales
Ianto says there is too much misinformation and confusion regarding the laws and regulations. He remembers when he was talking about THC and CBD products on national radio, only for the medical officers to come after him in the same show to insist on the banning of cannabis in Wales. They also said no company is allowed to sell CBD and THC-infused products in the country. Despite all these, Ianto says he has the Cosmetic Compliance Certificate that legally allows him to sell these products. He mentions the many obstacles that still exist in the industry, including the confusion to other medical institutions not welcoming the idea of cannabis in the medical field. He also says PayPal locked his account and cannot allow him to sell anything CBD-related through the platform. While the cannabis industry seems to be moving slowly in Wales, Ianto notes that people and institutions that never wanted anything to do with cannabis are now helping to validate their products on medical grounds. Among many other successes, the company's natural balm was second in the world during the Black Beauty and Fashion Awards.
"I was given a gift to reclaim, and now I will work from that."
3 DANK Points
There's always a way to work in cannabis and stay within the law.
The power of cannabis in healing different medical conditions cannot be ignored.
There is a need to loosen the legislation as people keep on accepting CBD.
Links
Does your cannabis, hemp, CBD company need to improve local or e-Commerce sales? Set up a time to speak with us at Calacann – Cannabis Marketing Agency (https://calacann.com/grow) to discuss how our digital marketing, search engine optimization (SEO), web design, affiliate/referral marketing or influencer marketing campaigns can help you. Home of the D.A.N.C. Method.
Spotify | YouTube | Soundcloud | Stitcher
Follow