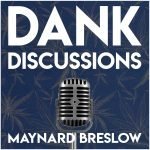 Jack Nichol is the Owner of Canna-Trim, the first business of its kind in New England to offer both local and national cannabis growers a place to go for their cannabis processing equipment. Jack is also the Owner of Vermont Gold Company. They sell premium quality Vermont hemp that's grown by the best cannabis growers and processors in Vermont. In this episode of DANK Discussions, Jack talks to us about the growing market of the Cannabis scene and the pros and cons of hand trimming verses machine trimming in the industry. 
First, Jack tells us about how he started Canna-Trim. Originally from Philadelphia, he moved to Vermont in 2009 and worked as a mechanic for helicopters and planes. He then studied to get his Electrical Engineering Degree. Jack became an Engineer, but he didn't want to work for anybody. At that point, Cannabis laws were loosening in Vermont, which allowed him to jump into a space where the thought people will see the value. He then started Canna-trim in 2019 and has helped micro growers get through their harvest that year by saving hundreds of hours using his trimming machines. 
Using Machines for Harvesting
Machines are tools, and they are really essential to getting through with harvesting cannabis. But it depends on which machine will be used to harvest. When picking a machine to pick, one should keep in mind when and how to use it. When Canna-trim started, nobody was using machines for harvesting until they introduced their products. But in states like California, there are regulations where growers are not allowed to grow until they are licensed. And without licensing, machines are not allowed to be used. Without a license, it's all about making a choice at that point of either start trimming or have the space to hang it up and grow outdoors.
Hand Trimming vs Machine Trimming
People need to understand that it's the cannabis market is an industry now. And within the industry, there will be a demand that will start to grow very fast that it will reach a point where it is not economically feasible. In some capacity, the high volume of producers uses machine trimmers because of the high demand for cannabis. The truth is that no one can make money if their business is only doing hand trimming. People say that when wet trim, there's a flavor to it. The quality drop-off is negligible in reality for those that are saying that there is flavor with wet trimming. In Jack's experience, it's negligible, and it's not a quality question. It's an actual infrastructure question that you have to ask yourself of whether you are going to trim or what you are going to trim. If you're planning to grow, the first things to think about is what you will do with the flower, where it is going, and how you will trim it? Think about if you are in a position to do all of those things. Then figure out a plan about using equipment and processors.
Learning from Other Growers
Some folks in the Cannabis community are very open when it comes to sharing knowledge and experiences. People that grow Cannabis in California, Oregon, or Washington who made a ton of mistakes aren't necessarily telling everyone what they've learned. But at the end of the day, it could be that even though it's a problem, the grower also needs to go out and seek that information where they didn't do the research. The market is new in New England, and that everyone is in a different stage of legalization. In the case of New England, there is snow early in the year, which gives Canna-trim only one growing season. And the market at the end has been the biggest obstacle because the CBD market is full and pretty packed. For Jack, if he knew the actual market, it'd be a lot easier for him to do business. He thinks that many growers are saying the same thing and thinking about how they are going to make a profit without losing a huge part of their money. The world has gotten much smaller, and it's gotten easier to buy stuff online. The biggest concern for Cannabis growers is making sure wherever they are sending it, they can legally take it. 
"Success is seeing other growers in his community, especially in Vermont, benefit from my products. I dream that Canna-trim and Vermont Gold Company will become helpful for the community."
3 DANK Points
Knowledge and experience in the cannabis space is extremely important for growers.

Having the right types of machines make it easier to grow and harvest cannabis.

Machine Trimming is much more efficient and profitable than Hand Trimming
Links
Does your cannabis, hemp, CBD company need to improve local or e-Commerce sales? Set up a time to speak with us at Calacann – Cannabis Marketing Agency (https://calacann.com/grow) to discuss how our digital marketing, search engine optimization (SEO), web design, affiliate/referral marketing or influencer marketing campaigns can help you. Home of the D.A.N.C. Method.
Spotify | YouTube | Soundcloud | Stitcher
Follow