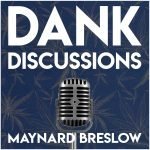 Brandon Hilton is the CEO of Organic Memories based in Chicago, Illinois. Brandon had always been in touch with nature. Together with his wife, Reena, they want to bring change and help transform the lives of their clients through a holistic approach and the 'essence' of nature.
Despite the COVID19 pandemic terrorizing everything and changing the status quo, it opens up possibilities, opportunities, and mindset changes that would never have existed or occurred if it did not happen. Brandon first explains to us that most people, at this stage, had mindset shifts and became more open with the idea of cannabis. People realized that synthetic formulas do not work anymore; thus the natural way is the solution.
The Rebirth of Cannabis
He believes that this change is a "rebirth". It is common that elderly people stick to their stigmatized principles and belief towards cannabis, finally start embracing the benefits and transformation shown by cannabis. The refreshing perspectives and ideas surrounding cannabis are a significant driving force for people to have an open mindset on healing themselves and staying healthy.
"I think it is cool because we're witnessing rebirth, where you have the youth and the elders who are stuck in their ways be transformed."
Brandon went through a lot of things to come out with various products and formulas. Understanding how vitamins work, how the human body processes them, to even looking at different natural products to acquire the necessary components. However, with all of these technical and scientific aspects, the biggest obstacle was the struggle of being a person of color. He had to thoroughly understand how it works and find the missing connection with himself to help transform other people's lives. He emphasized that you should have control and knowledge of what you put into your body. 
Cultivating Ones Mindset
Cultivating the mindset is the biggest impact Organic Memories can provide a person with. Brandon believes that people still end up historically favoring the natural method with all the neurological issues and the constant banter between natural and synthetic medicine. Although science does well mass-producing synthetic solutions to make them cheaper and accessible, the natural way is still the origin of every innovation. Now, the pandemic continues to disrupt the mental health of everyone. Many of Reena's clients start to consult for remedies for anxiety attacks due to PTSD concerns through a holistic approach. All more, Brandon and Reena set their sights on bringing organic products, together with their CBD products, to be accessible and helpful for their patients and clients.
"As human beings, we're still trying to unfold how the natural elements can impact our psyche on this Earth."
Rising Against the Challenge
Changing someone's mentality between natural vs. synthetic is a tough one to crack. Brandon thinks that all the brainwashing done towards synthetic products will eventually hurt everyone. This is not a challenge for him but an opportunity. Finding ways to start, cope, transform, and overcome the trials and tribulations along the way is something they aim to embrace. Together, people should start asking real questions and providing real solutions. However, he emphasizes that education is the starting point to realize these aspirations. And when people get older, they will finally be able to understand and answer the question for themselves, "What is going to be better for me?"
"Success is when we can see others thriving, growing, and cultivating together. It's when we can truly listen to the people and see them at their highest peak. Success is empowering the people around us."
3 DANK Points
How their child's battle with eczema led to seeking a better holistic approach

The holistic approach starts in the body's cells and how we feed those cells

We're still trying to unfold how natural elements can impact our psyche on this Earth.
Links
Does your cannabis, hemp, CBD company need to improve local or e-Commerce sales? Set up a time to speak with us at Calacann – Cannabis Marketing Agency (https://calacann.com/grow) to discuss how our digital marketing, search engine optimization (SEO), web design, affiliate/referral marketing or influencer marketing campaigns can help you. Home of the D.A.N.C. Method.
Spotify | YouTube | Soundcloud | Stitcher
Follow