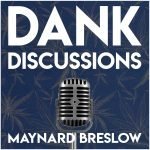 Pierre Davis is an award winning chef as well as the president and CEO of Euphoria Eats Co. Euphoria Eats is a veteran-owned company that infuses CBD and hemp with original Louisiana sauces and recipes. In this episode, Pierre shares with us his experience entering the cannabis industry through his incredible and delicious infused condiments. He also touches on how cannabis helped him through PTSD after serving in the army, as well as the intense stigma towards using cannabis as a medicine in his southern home state of Louisiana.
Pierre says he grew up in the kitchen. This is where he learned how to cook and create delicious recipes. Feeling the need to shape his life towards a different path, he decided to enlist in the Army. While serving in the Army, his path changed again and that's when he decided to start a catering company. However, without any direction he felt as though he had hit a roadblock. Once he discovered the power of cannabis he then came up with Euphoria Eats, one of the very first companies to infuse recipes with cannabis and hemp. 
Confronting PTSD with CBD
While serving in the army, Pierre was sent overseas and many different areas of the world. Like many other veterans, Pierre came home with a severe case of PTSD and it really changed his life. He explains the high levels of anxiety, depression, and mood swings he had to battle every single day. This battle was even worse than anything he had ever experienced in the Army. He had prescriptions on top of prescriptions to take 20 pills a day until there came a time when he didn't want to put the pills into his mouth anymore. 
At this point, he started trying out THC products and was able to keep his condition under a certain amount of control. Reluctantly, he is now able to live a functional life while helping others who suffer from PTSD as well. He explains how many people don't believe infused hot sauce until they try it for their own injuries and different conditions. Pierre explains how important it is to treat Cannabis as a household topic. In the south it's taboo and people are quite ignorant to its endless possibilities. Despite the fact that the situation in the South in terms of cannabis stigma is worsening, Pierre has been getting an overflowing bucket of positive feedback since he founded the company. 
"In the State of Louisiana, I cannot go to a store and put this on a shelf. But I can get established in another state to be able to sell on the internet."
Jumping Over the Hurdles
Apart from licensing and other tough compliance issues in the South, Pierre says the main obstacle he has been facing in Louisiana is waiting for the deregulation of cannabis and hemp. For the last six years, he has sold his products out of a shop in a neighboring state and still to this day makes the long drive back home every night. He explains how crazy it seems to run a business in a different state while residing in another. 
Looking towards the future, Pierre says he has 13 more infused condiments and seasonings to come. He also plans to have commercials aired in the states of Los Angeles, Florida, Texas, DC, and Sacramento. With this as his next stepping stone, he plans to have his products in all the stores for the customers very soon.  
"A successful individual is a person who is at peace with their life. Success financially is having the wealth within my community, wealth within my family, and leaving a legacy."
3 DANK Points
How CBD can truly help veterans who face the challenges of PTSD.

The fight towards loosening the tough regulations in southern states.

Creating a legacy through Cannabis work that you can be proud of.



Links
Does your cannabis, hemp, CBD company need to improve local or e-Commerce sales? Set up a time to speak with us at Calacann – Cannabis Marketing Agency (https://calacann.com/grow) to discuss how our digital marketing, search engine optimization (SEO), web design, affiliate/referral marketing or influencer marketing campaigns can help you. Home of the D.A.N.C. Method.
Spotify | YouTube | Soundcloud | Stitcher
Follow