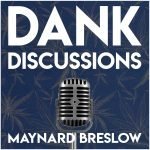 Darell Bester is the Chairman of the Illinois Black Chamber Of Commerce Cannabis Committee. He is also the Founder and CEO of Buddy Luv, a cannabis/CBD lifestyle company. In this episode, Darell talks about the history of Buddy Luv, operating within various ancillary business models, and helping people affected by the war on drugs in the city of Chicago.
First, Darell shares the climate of the cannabis industry in Chicago. He says that there are unchanged circumstances, especially for people pushing social equity. Licenses are still tied up in litigation, and people are losing money because of that. True ownership into the cannabis space is yet to be seen in a couple of years in the state because of the heavy litigation.
Injustice in the Correctional System
Many people are incarcerated for more than 30 years for a minor marijuana discrepancy. There is an absurd space within the correctional system that offenders occupy for merely possessing a small amount of cannabis. For Darell, creating a legit program for offenders to become acclimated into society is one of the main challenges he faces as the Chairman of the Chamber of Commerce. He says, one of the first steps is making sure these people have a place of residence. It is almost like taking baby steps to ensure that they can function within society once again.
The History of Buddy Luv
Darell got involved in the cannabis game because he was a football player struggling with chronic injuries. At the same time, his wife was battling cancer. He then ventured into CBD to get the relief that it was giving. That started making him look into cannabis more and get educated. He then went into Cannabis Training University to learn everything about cannabis. Darell eventually got the idea for a company and named it "Buddy Luv." He then learned to start cooking, infusing food with cannabis, getting a feel for the flavors and knowing what terpenes to use. This pushed him along into getting the ancillary business idea. Many people yearn to be in the cannabis space. For Darell, he says that you have to be open to what's given to you. The ancillary side of the industry can be amazing if you get out of the glitz and glamour of wanting to touch the plant. 
The Entrepreneur Lifestyle
In figuring out your marketing plan or targeting your customers, it takes time and patience. Building a business requires understanding what you want your customer base to know about you. You have to make them feel comfortable and become a part of your ecosystem. Brands like Nike, Apple, and Samsung have established themselves in the market where they have loyalists, and the brand has become a household name to their customers. You have to make your customers feel drawn to your product and brand. That is what you are trying to create –a lifestyle.
An entrepreneur's life is one of the loneliest things you can go through because there's so much that you do daily just to maintain your business. Unfortunately, there is an extremely high rate of suicides among CEOs. They're looking at the people working for them while helping feed their families. So you're taking on a whole load of things as an entrepreneur because you're trying to change not only your life but others as well. 
Finding Your Passion
Darell remind's us all how important it is to find something you're passionate about. The longer you get the opportunity to live, the more you start appreciating the life you have been given. Every day is a blessing. There is room for people to teach others about cannabis, and to educate people about the industry and the plant itself. Buddy Luv has many plans down the pipeline. They have already started Buddy Luv Apparel and Buddy Luv Wellness, and also secured a partnership with "Do Better". The company is also doing some things on the social equity side of the cannabis realm, where they will be having dispensaries and consumption lounges.
"Success for me is freedom. Freedom to do whatever I want to do in this world with my family and friends. To do that, I have to take time and understand my craft and become a master at that craft."
3 DANK Points
There is an absurd amount of injustice in the correctional system towards those with nonviolent marijuana charges.

We need more awareness within the industry towards the pressures and stress that business owners and CEO's face.

Building a brand should be about bringing people together for a higher purpose and to accomplish great things.
Links
Does your cannabis, hemp, CBD company need to improve local or e-Commerce sales? Set up a time to speak with us at Calacann – Cannabis Marketing Agency (https://calacann.com/grow) to discuss how our digital marketing, search engine optimization (SEO), web design, affiliate/referral marketing or influencer marketing campaigns can help you. Home of the D.A.N.C. Method.
Spotify | YouTube | Soundcloud | Stitcher
Follow