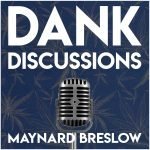 Shan Claudio is the CEO of Dallas Hemp Company whose mission is to provide purchasing solutions of the best CBD products that farms can produce. He joins us to share about the stigma towards Cannabis, his upbringing as a victim in the war on drugs, and his efforts to educate people on the benefits of hemp and CBD.
Shan first tells us about the prohibition on cannabis in Dallas. There is a huge need to educate people about what cannabis is and how it helps people. Shan explains how there are people who want to try it, but their fears about the legalities get the best of them. While cannabis is a big umbrella term, the distinction between hemp and cannabis is a hard mold to break.
A Difficult Upbringing
Shan then tells us about his upbringing in a small town in Indiana. He explains how there seemed to be only one reason to grow up in this town; make babies and get high. Surrounded by bad influences and drugs, he had already committed 7 felonies by the time he was 13. A judge sentenced him to be kicked out of the state and sent to Texas to live with his father. He was warned that if he returned, he would be locked up until his 21st birthday. Unfortunately, his first day at school in Texas saw him getting caught with a bag of weed, and he found himself being sent back to Juvenile detention. 
When he was 16, Shan ran away from home and started selling weed until he turned 18. He then started traveling with companies dealing with construction and home decor, which gave him an opportunity to meet new people, and make partnerships as a young dealer. At 21, Shan had a daughter while also serving probation for ten years. After completing his probation, he got approved for a growing license and started his company in 2016. Coincidentally, his uncle was starting to grow weed around the same time Shan was approved for a growing license. They then decided to open a new company together called Dallas Hemp Company.
A Passion for Giving Back
Shan is not resentful towards his upbringing. In fact, he sees his upbringing as one big learning experience. He has always been passionate about telling his story because it helps others who have been through rough spots in their timelines. His company is able to give people who have also been victims of the war on drugs brighter futures. The system is broken because people who are accused of these crimes are put into boxes and told they hardly ever have a shot at a good life. One thing that Shan says we need more of is reform. There needs to be legalization in a space where people are not fighting over it. Shan is incredibly happy at where he has gotten by working hard, and strongly believes that nobody can take that away from him. This is the main reason why he is passionate about giving back to the community and creating the life he has now.
The Bright Future Ahead
Dallas Hemp Company deals with distribution sales, branding, marketing, and deliveries. Shan later decided to add a program to make it affordable for those who want to start their own CBD company. The program features a model with seven different products to start your own CBD company. Other features include Web design, packaging, and education. While half of the amount is paid upfront, the rest is on delivery. One key obstacle that Shan notes is capital. He says you can't go the traditional way to find an investment when you're in the cannabis industry. However, they are looking for investors to help fund their efforts. 
He also shares how Dallas Hemp Company is currently raising money to give back to the community. He aims to use the money from his new non-profit called "Giving Hemp" to buy Dallas Hemp Company products for cancer patients. They are also planning to increase their research activities to prove that cannabis has a very unique effect on the body, including killing cancer cells. Lastly, the company is also planning to bring new innovative products to the market that will provide a better experience for consumers. Shan is so proud of the way he has built himself and his company up the the highest standards, and hey says there is no stopping him on the journey towards success.
"I value the personal relationships I have in my life. I have a lovely family and all my friends around me and people that I call friends are real friends. And that is how I measure my success."
3 DANK Points
Being a victim to the war on drugs does not mean you don't deserve a successful life.

Stigma and regulation laws have made it hard to find investors in the cannabis space.

There is a huge need for reform and advocacy for the underserved.
Links
Does your cannabis, hemp, CBD company need to improve local or e-Commerce sales? Set up a time to speak with us at Calacann – Cannabis Marketing Agency (https://calacann.com/grow) to discuss how our digital marketing, search engine optimization (SEO), web design, affiliate/referral marketing or influencer marketing campaigns can help you. Home of the D.A.N.C. Method.
Spotify | YouTube | Soundcloud | Stitcher
Follow