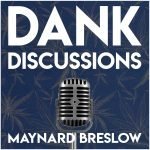 Tov Breslow is a highly experienced and brilliant entrepreneur with a demonstrated history working in marketing and advertising. She is the visionary leader and CEO of See Beauty Cosmetics, a skincare company that sells high-quality products infused with superior hemp CBD oil to accomplished women. She is also the Co-Founder of Calacann Media, Executive Producer of Dank Discussions Podcast, and the beautiful wife of our host, Maynard Breslow. In this episode of DANK Discussion, Tov talks to Maynard about the rising industry of Cannabis Skincare, her journey from addiction to recovery, and how See Beauty aims to continue empowering women everywhere.
Empowering the Female Minority
Tov's life goal has always been to help others. She learned this from her badass lesbian parents, who brought her along to marches for women's rights and social justice issues. When she was younger, she was taught that marching in a crowd helps people who do not have the freedom and tools to succeed. Tov has had this point of view her entire life. She aspires to help women in the industry thrive by setting a good example of service to others.
The company's vision is based on the power of positivity, how people use the products, and where they are in their lives. Tov's goal was to sell products to successful women looking for a holistic and natural skin care routine. Tov was considering what she liked about other brands, what she saw in herself, and the message she wanted to convey to all of her community members.
Tov founded See Beauty because she wanted to bring light to the world through a product with integrity. Her motivation was to create a small community of people who value inner positivity, self-love, and body positivity. She believes that everyone is entitled to inner happiness and growing that spark of brightness in their lives.
Cannabis and Recovery
Tov was already selling little quantities of cannabis to her friends at the tender age of 14. As a child growing up in a small suburb full of privileged teenagers, she was used to smoking cigarettes and selling weed a such a young age. Her 18th birthday was the day she was arrested for possessing a minor amount of cannabis. During her time at community college, she became even more reckless as a result of the consequences of that arrest.
Tov was required to attend an outpatient group for two weeks, despite her charges being withdrawn. She continued to smoke and drink with her buddies during this period. Tov benefited from this experience, although it didn't alleviate all of her shortcomings. She was still a member of a group of depraved youngsters, and her drug use deteriorated to the point where she started using different opioids, including heroin.
After a few months of her addiction becoming more and more severe, she finally came to her rock bottom. After realizing that her life was spiraling out of control, she decided it was time to seek assistance. She knew in her heart that her life was in jeopardy if she continued down this risky path. After that realization, she finally decided to go to an inpatient rehab center to work on herself and get her life back on track. "It was oone of the best decisions I have ever made in my life," she says. Tov's time in the rooms and in rehab taught her one of the most important lessons of all: not to be afraid of the journey and to always have faith in herself.
"The journey has always been the destination, and the things you are doing right now will always impact what you are bound to do."
Bridging the gap between Wellness and Skincare
Tov grew up watching her mother apply a wide variety of skin care products from a variety of various brands as a young child. A passion for her own personal brand blossomed as she matured. She was moved and determined to make a career out of her newfound enthusiasm. Learning how to run a business, figuring out how she could utilize her products to make a difference in the world, and finding trustworthy suppliers were the most important aspects of the process.
There are a variety of receptors in your skin that are activated by different terpenes. In the same vein, different wellness regimens will have varying effects on different people. It's well known that the endocannabinoid system (ECS) has multiple levels. Lavender, rose petals, vitamin E, and vitamin D can all be added to your skincare or body care products to enhance your overall wellness.
Tov also explains how wellness is an all-around good thing for your body inside and out. Just like confidence, it's an inside job as much as it is an outside job. To bridge that gap, wellness-wise, she aims to make more space for the people using tinctures and eating gummies to be educated on how beneficial using topicals as well are to our wellness routine.
See Beauty and Calacann Working Together
Tov excitedly explains how the best thing about being co-founders together for Calacann is the teamwork. They are able to hold each other accountable as business partners as well as a couple. She says that whenever one of them draws blanks on a project or needs help with random tasks, there is no doubt that they can fill in the spaces for each other. They are hopeful that their success as a team sets an incredible example for the other couples building their own companies together. The most important thing to remember when working with your significant other is that it takes a lot of learning, building, and hearing each other's ideas.
With See Beauty, Tov is very passionate about helping people to see their beauty internally. With the help of Maynard's marketing expertise and Calacann, Tov is currently focusing on creating an online community and educating those followers on how to live purposefully and positively. She aims to teach the world how having self love allows a person to glow from the inside out. 
The Right Attitude is Gratitude
Spiritually, Tov is a firm believer in having gratitude for every little thing in this world. Whether big or small, good or bad, challenging or easy, gratitude is one of the purest and healthiest of all human emotions. She says that the more you express gratitude for what you have, the more likely you will have even more to express gratitude for in your life. For Tov, it's the setbacks and comebacks and the process itself that she's grateful for.
"Success for me is knowing that I'm moving forward and making progress little by little, one step at a time. It is making sure that no matter what, having gratitude and faith in G-d comes before anything."
3 DANK Points
Bridging the gap on self care, wellness, and skincare.

Overcoming an addiction to opiates with the help of cannabis.

Learning to love yourself internally allows you to glow externally.

 
Links
Does your cannabis, hemp, CBD company need to improve local or e-Commerce sales? Set up a time to speak with us at Calacann – Cannabis Marketing Agency (https://calacann.com/grow) to discuss how our digital marketing, search engine optimization (SEO), web design, affiliate/referral marketing or influencer marketing campaigns can help you. Home of the D.A.N.C. Method.
Spotify | YouTube | Soundcloud | Stitcher
Follow